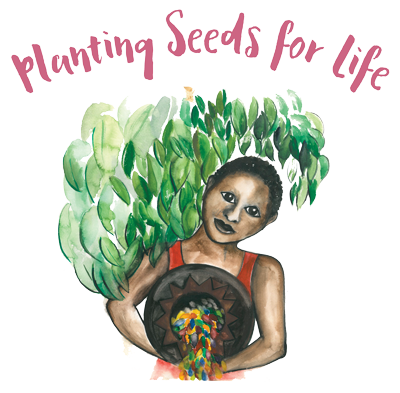 A delightful manual of lesson plans – each sowing a special quality – teaches essential life skills to help children navigate their personal life journeys through growing positive values.  Designed as a fully experiential guide, it also helps improve children's well being while encouraging them to contribute wholesomely to their communities and the world. Aimed at children aged 10 to 14 years old.
The Magnificent World Video
More about Planting Seeds for Life
Enchanting contemporary African stories guide the reader through group discussions, creative visualizations, songs and other practical learning activities. The book's twenty-five "seeds" include taking care of our bodies, becoming self-reliant, understanding and managing our emotions, mindfulness, thinking positively and opening our hearts to compassion.
Aimed at learners aged ten to fourteen, this comprehensive and inspiring resource is also ideal for educators, parents, youth workers and anyone requiring tools to make a difference in young lives.
Why Planting Seeds for Life is so magnificent:
Comprehensive and practical resource for parents, teachers and facilitators
Utilises beautifully imaginative African inspired stories that can further be developed into plays/productions.
Highly user friendly with clear and well guided instructions
 Includes creative and practical activities as well as fun physical exercises
Links to the SA curriculum (CAPS) and fits into the Life Skills programs as well as other subjects
Promotes kindness, courage and compassion in children
Teaches essential life skills such as self-reliance, leadership and communication skills
Encourages adult/facilitator and child to learn and participate together
Lesson plans promote sustained well being and happiness
Employs the use of original and adaptable songs, storytelling and visualization exercises as creative tools for learning.
Group discussions promote teamwork and the development of interpersonal skills
Planting seeds for positive conscious transformation in the way we educate our children.